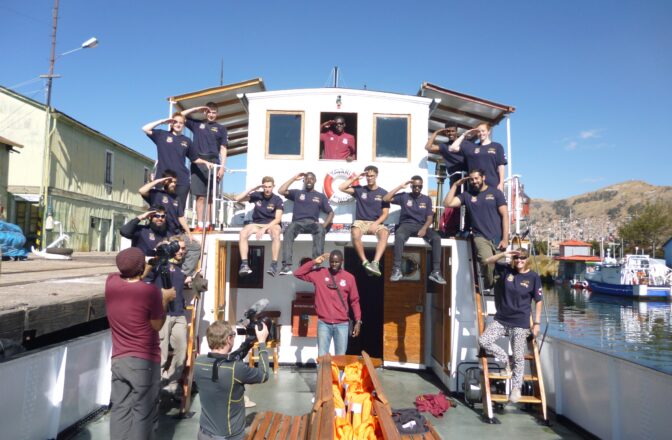 20 September 2016
A life-changing expedition
In 2015 a team of 16 "Young Hammers" set off on the Peru Yavari Expedition, a unique collaboration with the West Ham Foundation. They retraced part of the original journey of the Yavari, a Victorian gunboat built in West Ham in 1862, which was transported to Peru and then carried, in pieces, by mules over the high Andes, to Lake Titicaca.
This BBC news clip sums up the team's objectives to complete the mountain trek and then refurbish the Yavari ready for her second maiden voyage: //www.yavari.org/bbc-news-covers-the-young-hammers-trek-in-the-andes/
One year after the Peru Yavari Expedition, students look back on their expedition.
John Akron wrote: "These three words sum up my 2015 expedition: life changing experience! It is fair to say that the expedition taught us many skills like patience, determination, resilience and, most important of all, teamwork. It was challenging mentally and physically, but we have all come out of this much stronger and have also become a lot more independent! The best moment was finally completing the high altitude trek in the Andes, towards the end it became more demanding as the mountains were quite steep. However we had to dig deep, which we did – and we made it!
Being able to eat, sleep and sail on the Yavari was priceless and an amazing achievement. Some of us had never sailed on a ship before and to be the first ones to sail across Lake Titicaca in the Yavari was a historical moment and something that will live with me forever. I felt hounoured to have been part of something great. Huge credit to Meriel Larken of the Yavari Project and her persistence and dedication to restoring the Yavari. Thank you for this amazing experience."
Team member Yaseen Mukadam adds: "The Yavari Expedition was an unforgettable, once in a lifetime experience, it exposed me to different people, cultures and traditions. Travelling from village to village allowed deep conversations within the team, whilst admiring the beauty of the Andes. At times it was very strenuous and hard to continue. However, a similarity can be drawn with life itself; sometimes it will be hard, but the ability to persevere and move on despite hardships is what really defines you. With this experience, I really got to know the team, as when people are travelling and living together they show their true selves. It requires a lot of patience and teamwork, and the transferable skills I learnt were invaluable. To travel at altitude for days is quite a feat, especially in the era of technology where walking may sometimes seem ancient. 
One of the most beautiful things was the night sky at Miculla – the second best place to stargaze in the world, according to the guides. The experience has really had a lasting impact on my life, because it has allowed me to appreciate everything that I take for granted."
You can read more about this remarkable expedition on their website: //www.peruyavariexpedition.com. Planning for the 2018 Young Hammers' Trek is now underway.