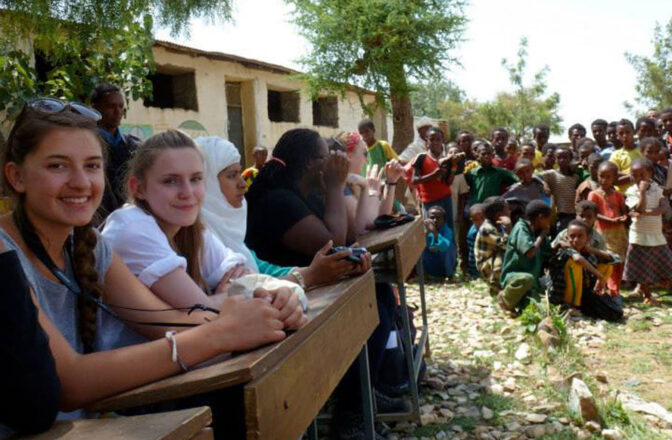 15 June 2016
Building a school library in Tanzania
Having established a link between Surbiton High School and a girls' school in Tanzania, Librarian Joe Humphreys got in touch with Wilderness Expertise to create an expedition that would enable them to fundraise, build and then stock a new library:
The idea to build a library as part of an overseas expedition first came in to my head when I volunteered in the summer of 2013 as a teacher at a school in Uganda. I ran the idea past both the headmaster of the Ugandan school and the Senior Leadership team of where I work, Surbiton High School. Both were very keen on the idea. However, maintaining a constructive dialogue with the school in Uganda proved to be very difficult, and I think they didn't fully appreciate exactly the logistics of building a library – you can't just rock up and open one! You have to raise the funds, catalogue the books, organise for the books to be shipped over, design the layout and plan the decoration…the list goes on. Anyway, it won't surprise you to hear that it fell apart pretty quickly.
Determined to find a suitable alternative, I cast my net a bit wider; as I was planning a trip to Tanzania in the summer of 2014 to tick off the bucket list item that is climbing Mt Kilimanjaro (mission accomplished, I might add), it made sense to look there. Leafing through a Lonely Planet I came across some information on volunteering opportunities in Moshi – a town close to 'Kili' – and it was through this I found out about Kilimanjaro Young Girls in Need, or KYGN. For us to work with KYGN made sense on so many levels. Surbiton High School is an all girls' school that prides itself on providing a well-balanced education that aims to 'inspire, encourage and empower' its students. The school motto, 'Amor Nos Semper Ducat' ('May love always lead us'), also reflects the girls' commitment to helping those less fortunate than ourselves. The KYGN School was established to provide an education, healthcare and a safe and stable home environment to young girls of the Mabogini region of Tanzania who would otherwise be unable to afford it.
When I contacted them I found out that they were in the process of building a new school, including a new library… in short it all fell in to place – I had the necessary knowhow, resources and backing to build a library, and Surbiton High School were very keen on developing links with a school in Tanzania that had been specifically set up to provide an education to girls.
Things really took off once I'd contacted Wilderness Expertise. We fixed a date for a three week expedition to Tanzania: we had the project in place already, and the next stage was working together to provide the girls with the basis from which they could experience the trip of a lifetime. As is the case with many Wilderness Expeditions, creating a sense of ownership of the expedition for the girls has been key to this; we want it to be their trip, with roles/responsibilities and the itinerary determined by them to reflect this. To me, it was important to extend the idea that we're developing their potential and pushing them out of their comfort zones to the project itself as well. So as well as pushing them to their limits on UK1 and, in particular, UK2 training weekends, we've also been working them hard with regards to preparations for the library and their time in general at the KYGN school. This has included them hand-cataloguing 1000 books – the old-fashioned way, with no computers to assist – helping raise the £8000 required for the library build in conjunction with myself and the school and planning out a whole day of fun activities for the KYGN school, as requested by Anna, the founder and project manager of KYGN.
They have made mistakes along the way, and things have certainly not always gone as they would have liked, but they have been able to reflect on these and learn from them. It's certainly all good preparation for when they're out in Tanzania. It is now less than a month until we depart for Tanzania for what is hoped to be the first of many trips to the KYGN School. Collectively, the girls have achieved and learnt a lot already, and are itching to get out to Tanzania (though have the small matter of their GCSE and A-level exams to contend with first). Now I'm looking forward to seeing them grow and develop further when they face the unique and exciting challenges of three weeks in Tanzania.