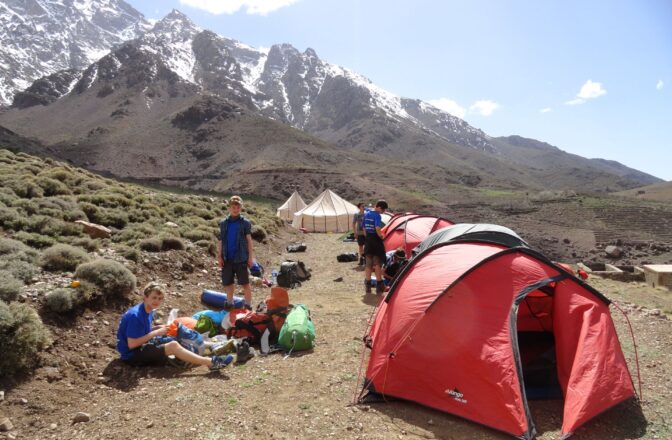 24 April 2014
Atlas Mountain Adventure
Having arrived safely in Marrakech, the team's first major challenge was shopping for 4 days' worth of food for 17 people for their 4-day trek through the Atlas Mountains. No mean feat for a typical 13 year-old! A training weekend in the Brecon Beacons had provided a valuable practice run and, with some careful menu planning, the team set to work and achieved their task, within budget.
This expedition to Morocco for Year 8 & 9 pupils had begun many months earlier. With fundraising, destination research and training completed they were now ready to embark on their chosen trek. The route through dramatic snow capped Atlas peaks took in mountain pastures, high passes and icy streams, reaching a high point of 2,950m – celebrated with a snowball fight.
Taking turns to lead for the day, individual team members were also responsible for cooking and washing-up, as well as pitching their tents and ensuring each camp was left clean and tidy as they left. Following the trek was two days of cultural immersion in the nearby Berber village of Ait Tamjoot. Working in small groups assigned to Berber families, the team learnt about the realities of life in a remote mountain community as they helped with a variety of tasks, such as digging foundations, walking cattle, harvesting barley and renovating irrigation channels. On the final day 45 local children gathered for some interactive fun, exchanging English and Arabic numbers, along with team skipping. Gifts of school books, pens, footballs, shirts and colouring pencils were handed out, before the team said their good-byes and trekked out to the road to meet their transport back to Marrakech. Here the bustling delights of the souk offered a chance to try haggling for souvenirs before the flight home.
Throughout the expedition the Leader held regular reviews with both individuals and the team to capture learning points in an enjoyable way. Generally students led the assessment of their own strengths and weaknesses, identifying areas to develop and improve. Overall the expedition was a great success, the team, teachers and Leader all enjoyed an unforgettable experience and returned home brimming with happy memories and a great sense of achievement.
Parents of team member Sam told us of his return home and their thoughts on the whole expedition:
"On the 30-minute journey home and for a good two hours afterwards we were entertained with Sam's vivid recollections of what seemed every hour of his adventure. Places, names, meals and every detail possible have been excitedly recalled and more of his experiences emerge daily. To say he enjoyed it is a woefully inadequate description. Judging by the pleasure he clearly gets from articulating what took place, to everyone, he has banked memories that will stay with him for a lifetime. We were apprehensive like any parent would be as his departure got closer and doubts as to whether he would 'cope' began to surface. We are now very proud of the way he seems to have determined right from the outset to make the most of his opportunity and to have done so."