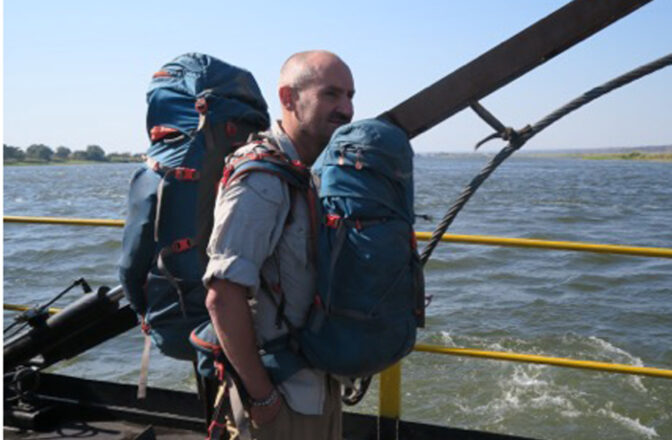 26 November 2015
Expedition Leader profile
Many things make an expedition, but it is the Expedition Leader that gives it a particular style and atmosphere, as well as its direction and purpose. At Wilderness Expertise we carefully select qualified Leaders who not only have proven expedition experience, but a belief in the value of personal development.
Leader Paul Taylor chooses to work with Wilderness Expertise because of our personal approach. "I really like the fact it is so small. I know I am in good hands. The direct involvement of company directors means that I know who I am speaking to when I call in during the expedition and I always get sound advice."
Being involved at the beginning also makes a difference, "I love the fact that leading for Wilderness Expertise involves being hands on with the team right from the start; getting to know the students, helping shape their plans and then delivering their training." He also gets the chance to form a good working partnership with the teachers.
Paul's first expedition with Wilderness Expertise took him on the trans Siberian railway through China and Mongolia in 2014. After 26 years in the Army, he discovered that his skills and travel experience, combined with a passion for personal development, meant he was perfectly suited to leading. Paul tells us some of what he has learnt:
The best part
For me, the highlight is not a great view or reaching a summit, but when I have an individual review with each team member at the end of the expedition. It is incredibly rewarding when students have gained confidence.
And the worst
Sometimes things don't go to plan. This summer I was leading a team in Zambia & Botswana. After a rewarding project and trek, the team was looking forward to a few days relaxing on safari in the legendary Okavango Delta in Botswana. Getting there involved a long day on the road, so transport was booked by the student leader to arrive at 4am. When it didn't show up, the students managed to order taxis instead. These duly arrived, but I had a sense something was not right. Not only were some of the vehicles in poor condition, but one of the drivers had been drinking, so I stepped in … In the end, with new and dependable transport, we were on our way, but there wasn't now time to get to the Okavango Delta. It was a good learning experience for the students. Firstly, that safety is paramount. But secondly, being flexible and changing itinerary can be a positive thing, as the team enjoyed an unexpected and wonderful few days in the closer Chobe National Park instead.
Favourite piece of kit
A Kindle – you can load up books related to the destination, whether guide books or travel writing. As student leader you can then read up in advance. It's a good idea to keep it in a protective waterproof case! A travel padlock is also handy for rucksacks on a long journey by bus or train, or for securing your tent if you leave it for a day's activities.
Paul's top tip
Enthusiasm! The more you buy in to the experience, the more you will enjoy it; read the guide books, go on YouTube, get to know the culture. When you're there be inquisitive, talk to the guides, learn the language, especially greetings. Paul's own enthusiasm is apparent to parents, who said "Our son had a fantastic time on his expedition in Zambia and Botswana and came home absolutely buzzing about the experiences he had. The team seem to have developed important leadership and team working skills and the increased self-confidence and sense of achievement has been really noticeable. We were very happy with Paul, the Leader, who was a hugely positive and reassuring presence whilst encouraging the boys to take ownership of their expedition."
Next year he heads to Nepal. Then he's looking forward to working with the same school and teacher as he did this year, as they have asked him to lead them again, this time along the Silk Road through Kyrgyzstan and Uzbekistan in the summer of 2017.