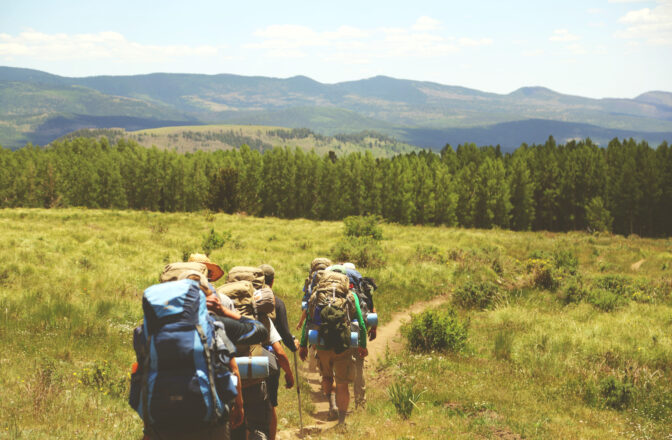 26 February 2021
The best kit for DofE expeditions – underrated heroes!
We recently posted a blog by a previous Open DofE participant, Emma, telling us what pieces of kit she wished she'd left at home. If you haven't read that yet you can check it out here.
This time she tells us what she was pleased to have with her in her kit bag and recommends the best kit for DofE expeditions that you may have overlooked, but that you should definitely take with you.
'Life Savers- Top 10 underrated pieces of kit you should bring on your DofE exped'
1. A scourer/sponge and mini washing up liquid. This might seem obvious but bringing washing up liquid and a sponge or scourer makes washing up after meals so much easier and will stop you from getting ill on your expedition.
2. Extra long matches. Extra long matches make it easier to light a trangia and reduce the chance of you burning yourself whilst adding very little extra weight to your bag, so there isn't really a downside to this one. Plus, if you see someone struggling with their short matches you can offer them yours and maybe make a new friend!
3. Playing cards. Playing cards can be a great way to break the ice with your new team members and can provide a light weight social activity for time at camp.
4. Hand warmers. Hand warmers can be great for warming up your hands but can also be used as mini hot water bottles at night making them very useful for an expedition.
5. Flip flops. The last thing you'll want to be doing at the end of a long hike is to walk around camp in your boots all night so bringing a pair of flip flops or other light weight shoes can help to give your feet a break whilst airing out your walking boots.
6. A buff/light weight scarf. A buff of light weight scarf can be used in the cold to protect your face as well as dipped in water in the summer to help you cool down, making it a great piece of kit for the whole year!
7. A small pocket knife. A small pocket knife can be used for a variety of tasks around camp from opening packets of food to whittling, just make sure you are familiar with the features of your pocket knife prior to the expedition.
8. Microporous tape. Easily the most overlooked item in a medical kit microporous tape can be used for both medical situations and more craft based situations such as marking which water bottle or walking pole is yours or to seal a packet of sweets!
9. A small notebook and pencil. A small notebook and pencil can be used to take notes on your aim, keep track of your emotions and experiences on your expedition or to play noughts and crosses.
10. Squash. If you don't like drinking water normally bring a small bottle of concentrated squash to add to your water and help keep you hydrated. I hope you found these tips useful and that you now feel better prepared for your open gold expedition with Wilderness Expertise!