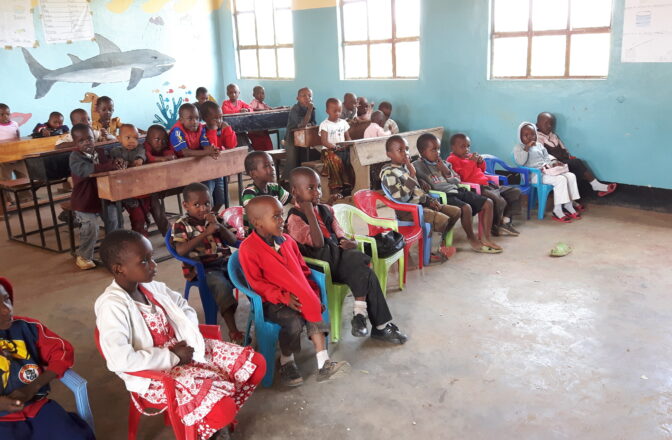 14 November 2016
"It exceeded my wildest expectations."
School Librarian Joe Humphreys reports back on his expedition with Wilderness Expertise to build and supply a new school library at the Kilimanjaro Young Girls in Need (KYGN) school in Tanzania.
"They all look so happy"
Those are the words, spoken by one of our group as we arrived at the KYGN School near Moshi in Tanzania, that have stuck in my memory. The first thing we saw from our dalla-dalla (minibus) was hundreds of children, running to greet us with big smiles on their faces. The girls knew that these children were deeply impoverished and came from troubled backgrounds, and so this was a very humbling and emotional moment for them. I looked around the dalla-dalla and all I could see were a mixture of smiles and tears!
We had been working for close to two years to get up to this point, raising over £8,000 and cataloguing 1,000 books for the library we had built for KYGN. The building itself was up, but its walls were bare and its shelves empty: we had much work to do to turn it in to an attractive and vibrant space that was fit for the KYGN children to use. That moment when we arrived at the KYGN project, and their subsequent interactions with its remarkable children, gave our girls all the motivation they needed to do the library justice.
And what a great job they did! Having to balance painting/decorating the library walls, stocking the library shelves and other library administrative duties with unexpectedly teaching Maths and English lessons, organising sporting activities and – as we were staying on site – all the jobs associated with camping was no small feat. But the finished library exceeded my wildest expectations, and I cannot begin to describe how proud I am of them all.
Virtually every girl said that our time at the KYGN project was their highlight of the expedition; and after all, this was the main purpose of our trip to Tanzania. But I know that they all enjoyed the safaris we went on (lions, elephants, hippos, giraffes, wildebeest…everything we'd hoped for and more) and the three-day trek we went on through the beautiful Usambara Mountains too. Well, they perhaps did not enjoy the latter quite as much – especially when we got lost trekking through some rainforest – but they showed resilience and character to get through this, with the stronger characters supporting those who were flagging to help them make it through to the end.
Perhaps the best thing of all for me was how the group worked together as a team across the three weeks. They were by no means all the best of friends with each other beforehand – there was a diverse range of age groups participating, and some of them hadn't even met each other before the group got together for the first time. But they gelled incredibly well. If there was conflict within the group they resolved it themselves, and no one turned their nose up at the idea of sharing a tent with particular people: something which adults are certainly capable of doing, in my experience!
Things weren't perfect. Inevitably, some group leaders were more effective and confident in the role than others. This much was also true when it came to other responsibilities such as cooking, budgeting and looking after our equipment. Factors beyond our control, such as the less than stellar time-keeping of the in country agency who took us on safari, did have a degree of negative impact on our experience. But on the whole, the trip went exceptionally well: Richard, our brilliant expedition leader, commented that it was his 'most enjoyable and rewarding expedition for a long time'. I think that says it all.
So what's next? Well, the girls were all to varying degrees affected by the experience, and many of them have expressed a desire to return to KYGN. One of the older girls in the group is a budding Doctor. On the back of some work experience she did at a Hospital in London, she is looking in to providing mosquito nets for all the children of the School, as well as improving the medical facilities on site. She is hoping to return to KYGN to implement these projects next summer.
As a School, we feel that our work there is very much unfinished. Sure, the library is technically complete, but it still needs books. The shelves are all still a bit on the bare side – so it's very much up to us to ensure that we keep fundraising and sourcing books for the School to add to their collection. We're also keen to take the library to the next level. We want it to be a resource, not just a room full of books, and we will be working on resources, lesson plans and more to help make it a more dynamic space.
To help this happen, we plan to return to Tanzania in 2018. The wheels for this are in motion already, and I for one cannot wait to work with Wilderness Expertise again to provide another lucky group of girls with a memorable and truly life-changing experience!