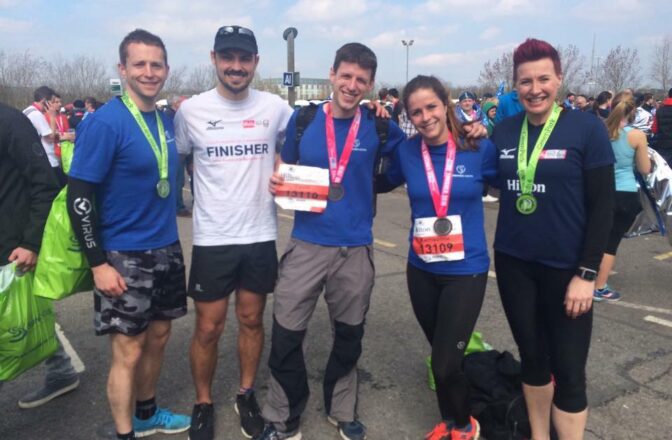 13 April 2016
We're an energetic team at Wilderness HQ!
On Sunday 3rd April, 5 members of the team including the Company Director, took part in a corporate team running event.
Kerri, Dan, Dave and Richard all took on the arduous 13.1 miles of the Reading Half Marathon, while Georgia, who loathes road running and who ran the Reading Half several years ago and hated every step (probably due to being on antibiotics at the time) was not keen to revisit that nightmare so instead entered the Green Park challenge which was the tremendous distance of 3km!!
After some delay due to the Mayor being late, eventually the race was underway. Georgia's race was 1st and she soon found herself amidst a crowd consisting mostly of children, as she worked her way to the front of the throng (hmm….perhaps this was not a race for adults!) . Georgia's sporting strengths (and enjoyment!) lie elsewhere but she was delighted to achieve a 3km PB and finish 154th out of 1562 runners overall and 4th out of those others who had entered the corporate race.
The rest of the team made their way to the red zone and joined the mass crowds who were slowly moving towards the start line. There was nervous anticipation and hopes of achieving good times particularly from Dan who's a regular and talented runner (although was a bit leg weary from lots of miles already that week) and Kerri who spends her weekends running through mud and over obstacles as an Obstacle Course Racer (another non road fan!). Dave's aim was not to die and to make it to the Jelly Baby section while sweets were still available! And despite turning up looking like he was off for a day in the mountains he beat everyone by coming in at a very impressive 1hr 44mins! The half marathon team all finished within the top third of the race finishers and with over ten thousand runners that's pretty impressive!
The rest of the day was predominately spent eating and sleeping and recovering from the run! Although Georgia couldn't really use her 3km as any excuse to eat extra food so got on with some DIY at home instead! Needless to say it was a great day with great people and it serves as evidence that the Wilderness team can work hard and play hard s a fantastic team!